The Sophia Centre
Conference Programme and New Publications
The Sophia Centre's mission to disseminate scholarship continues with the announcement of the programme for June's conference on 'Astrology as Art', and three new publications by the Sophia Centre and its staff; Luis Vilhena's book on the anthropology of astrology published by the Sophia Centre Press, the new volume on skyscapes archaeology edited by Fabio Silva and Nicholas Campion, and Crystal Addey's new book on Ancient Philosophy and Divination.
Also in this issue Crystal Addey writes about the module on Cosmology, Magic and Divination in the MA in Cultural Astronomy and Astrology and we interview MA graduate Petra Stapp.
The annual Sophia Conference has become established as the place for scholars to come together to consider the nature and history of astrology. This year's conference is on 'Astrology as Art', a theme with overlapping meanings - is astrology an art or an artifice. Is it actually art, and how do artists use it?
Click for:
Images: Mercury c 1410-15.
King Consulting Astrologer and Physician c. 1327.
The Anthropology of Astrology
The World of Astrology:
An Ethnography of Astrology in Contemporary Brazil
Luis Rodolfo Vilhena
Luis Rodolfo Vilhena, The World of Astrology: An Ethnography of Astrology in Contemporary Brazil, trans. Graham Douglas, Lampeter. Sophia Centre Press, 2014.
Luis Rodolfo was a Brazilian anthropologist who sadly died in 1997. His ethnographic study of Brazilian astrologers was originally published in Portuguese but has now been made available for the first time in English, published by the Sophia Centre Press and translated by Graham Douglas.
Rodolfo's ground-breaking work provides valuable insights into the activities and assumptions of modern astrologers, but also explores the practice in relation to anthropological theory. In particular, it makes extensive use of Claude Lvi-Strauss's ideas to argue that it is not the vocabulary of astrology - the planets, zodiac signs and so on - which gives it stability, but the relationships between them. After extensive discussion of astrology and symbolism, he concludes that astrology is a 'magico-classificatory system' whose basic tool is not concepts but images.
The book is available here
.
---
Skyscape Archaeology
Skyscapes: the Role and Importance of the Sky in Archaeology
Fabio Silva and Nicholas Campion
Fabio Silva and Nicholas Campion (eds), Skyscapes: the Role and Importance of the Sky in Archaeology, Oxford: Oxbow, 2015.
The School of Archaeology, History and Anthropology has adopted a new five year research strategy under the triple leading, 'Landscapes, Seascapes and Skyscapes'. The purpose is to explore all aspects of humanity's relationship with the environment, and the study of Skyscapes is being taken forward in all its forms by the Sophia Centre.
A new publication is central to one aspect of this strategy - the examination of possible astronomical alignments, orientations or symbolism in ancient buildings. The first new publication to take this forward, Skyscapes: the Role and Importance of the Sky in Archaeology edited by Fabio Silva and Nicholas Campion, has just been published by Oxbow. Based on papers given at the 2012 Theoretical Archaeology Conference at the University of Liverpool, the book, as Oxbow's website says, 'shows how it is not only possible but even desirable to look at the skyscape to shed further light on human societies...'
The volume continues by presenting case-studies that either demonstrate how archaeoastronomical methodologies can add to our current understanding of past societies, their structures and beliefs, or how integrated approaches can 'raise new questions and even revolutionise current views of the past.'
The book contains a foreword by Professor J. McKim Malville of the University of Colorado at Boulder, and an afterword by Professor Timothy Darville of the University of Bournemouth, and seven of the papers are by Sophia Centre staff and students.
The book is available here
.
---
Ancient Philosophy and Divination
Divination and Theurgy in Neoplatonism
Crystal Addey
Crystal Addey, Divination and Theurgy in Neoplatonism: Oracles of the Gods, Farnham: Ashgate, 2014.
Dr Crystal Addey is both a distinguished scholar of Neoplatonism and the tutor responsible for the module on Cosmology, Magic and Divination in the MA in Cultural Astronomy and Astrology. She is also Teaching Fellow in Classics at the University of St Andrews, UK.
Her first major book, based on her PhD, is a significant re-evaluation of the relationship between oracles and Neoplatonic philosophy in the late classical world, and concludes that there is a close relationship between the two. Crystal also follows current trends in the Study of Religions to question conventional understandings of what a religion is, and whether, in the contextof the classical world, it makes any sense to distinguish religion from philosophy. Once such anachronistic distinctions are removed it becomes possible to explore the role of divination freed from modern preconceptions. This book should become a defining work in the subject area.
The book is available here
.
Cosmology, Magic and Divination
Dr Crystal Addey on ancient cosmologies and ritual
The Cosmology, Magic and Divination course focuses on the divinatory, magical and ritual culture of ancient Egypt, Greece, Rome and the Near East. After seven years of teaching the module, it seems a particularly appropriate time to offer some reflections and thoughts about the course, given that in the ancient world seven was held to be the number of Apollo, the ancient god of oracles and divination, truth and philosophy.
Indeed, the Oracle at Delphi, the most famous oracular temple dedicated to the god in antiquity, was consulted by enquirers and clients on the seventh day of the month precisely because this day was considered to be sacred to the god.
The module explores various kinds of ancient divination, ritual and magical practices, including oracles, omens, astrology, theurgy, necromancy and curse tablets among many others, and their links with philosophical and cosmological frameworks, ideas and principles. This course comprises an important and indeed crucial part of the MA because ancient divination and ritual practices from across the Mediterranean region have had a significant and long-lasting influence on later divinatory, astronomical, astrological and ritual practices and contexts, acting as key precedents for many later developments and practices. For example, the philosopher Iamblichus' work on ritual influenced Marsilio Ficino, who translated his work and coined its modern-day title, On the Mysteries, as well as forming a crucial foundation for the Sufi tradition in the East and the Jewish mystical tradition (especially medieval Kabbalah).
Indeed, the final section of the module examines the influence of ancient divination and ritual practices on early Islam and early modern Europe. Of course the exploration of these ancient polytheistic practices is fascinating in its own right too: the ancient Egyptians, Greeks and Romans considered the gods and goddesses to be a living and vital presence in their lives, divination (of many kinds) formed a crucial part of daily life and ritual was well-respected, influential and foundational within their respective cultures. Students have also often undertaken comparative studies and spotted important parallels with many native traditions and modern-day practices from around the world.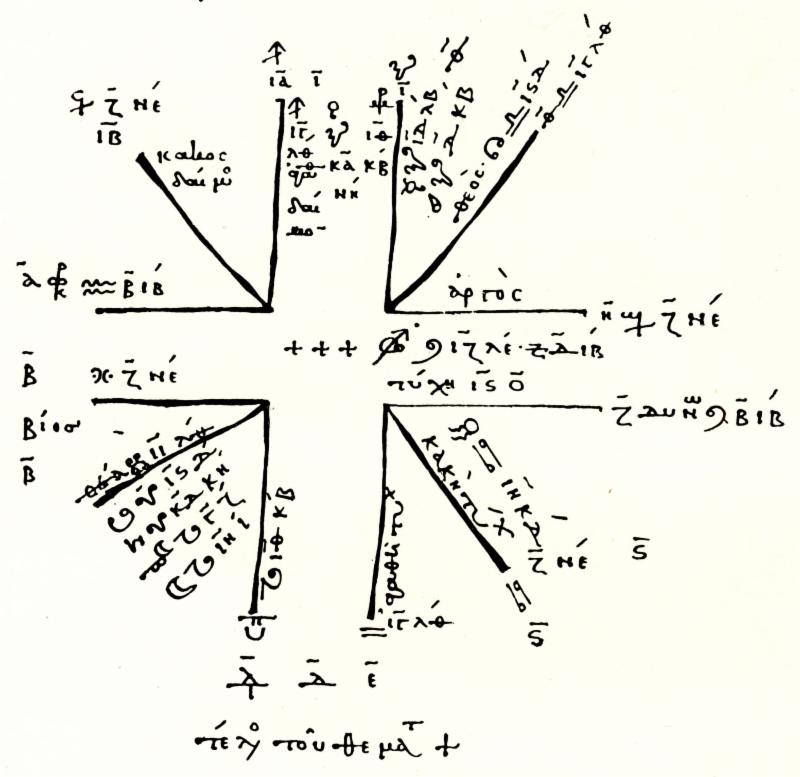 The examination of these practices in relation to the cosmological frameworks, models and 'worldview' which underpin them allows us to locate such practices within their wider cosmological, philosophical and polytheistic contexts. These contexts are often extremely sophisticated and complex, allowing a glimpse into ways of being and living in the world that are often extremely different and divergent from the 'worldviews' that frequently predominate in the modern world. It has been a great pleasure to explore such ancient phenomena and ideas with so many students, past and present, and to watch them flourish and develop their thinking and academic skills. Over the years, the Cosmology, Magic and Divination module has included many wonderful discussions and it is amazing to see students joining the seminars from so many different places in the world and exploring these fascinating ancient cultures in depth.
While teaching the module between 2011-13, I wrote my first book entitled Divination and Theurgy in Neoplatonism: Oracles of the Gods (reviewed above): teaching the module, especially discussions with students, often assisted and refined my own thinking about ancient divination and ritual and I would like to thank all the students who have taken the module for sharing their own ideas and reflections. I would also like to thank Dr Dorian Greenbaum, Dr Micah Ross and Dr Nick Campion, all of whom have taught and lectured on the module on a wide range of topics relating to ancient divination, magic, cosmology and ritual. Although the subject matter for the Cosmology, Magic and Divination module can often be very challenging, the resulting experience of studying these ancient cultures very much rewards the effort invested.
Images: Top: Farnese Globe, modern, middle: Hermes Trismegistus, bottom: Horoscope 497 CE
Alumni News
Alumni News Website
http://sophia-project.net/alumni/index.html
The Alumni Steering Committee is delighted to announce the launch of the Alumni Association website. (Please note that parts of this website are still under construction). Our mission statement is as follows:
The Alumni Association consists of graduates of the MA in Cultural Astronomy and Astrology. As a committed partner of the Sophia Centre for the Study of Cosmology in Culture at the University of Wales Trinity Saint David, we are a community that nurtures lifelong relationships between former students and offers programs of relevance and service to alumni.
We aim to create a global network that supports the friendly exchange of ideas and interconnectedness engendered by the MA. We also aim to support the Sophia Project's mission of teaching, research, publication and service and thus to provide benefits and programmes that let our members tap into this growing network and stay connected to cutting academic edge ideas.
We are still finalising our bank account details so that in the future you can buy courses and donate to the Alumni Association via the website. We are also finalising the forthcoming Alumni Association lectures, more of which below.
Alumni Lectures
We are aiming to have a series of short courses through WebEx that you can attend from the comfort of your own home, for a small cost that goes directly to the Alumni Association. The first of these will be Dr Bernadette Brady on Egyptian Astronomy, planned for October-November 2015. More news of this as it comes to hand.
'A Celebration of Light'
We are thrilled that the 'A Celebration of Light' photo exhibit by Gaia Somasca and Eva Young is underway and will be launched at the MA Summer School and the Sophia Centre Conference. All profits will be donated to the Alumni Association of the MA CAA.
Dr Darrelyn Gunzburg
On behalf of the Alumni Steering Committee
---
Where Are They Now?
Petra Stapp
Petra Stapp entered the Cultural Astronomy and Astrology MA programme in 2003, a year after the programme was founded, and graduated in 2006 with a distinction. Her background includes time as a police officer, professional singer and songwriter, a DEFRA animal health officer and a Command and Control radio operator for the Thames Valley Police. Currently Petra is theRegulatory and Policy Advisor to the waste management firm Viridor, having completed a Masters in Environmental Law last year.
Fig. 1: Petra Stapp, second from right with (from left) Johns Wadsworth, Anthony Thorley, and Chantal Allison at Graduation.
Petra Stapp talked to Kate Namous about the impact of the MA on her life and work.
KN: Why did you do the MA?
PS: At the time, I was working for Thames Valley Police as a command and control radio operator, directing police officers in incidents. Despite the twelve-hour shifts, I was bored! I needed to do something to expand my mind, and had already been accepted into and enrolled at Birkbeck for Renaissance Studies. A friend sent me an advert for the MA in Cultural Astronomy and Astrology and said I should do it. My undergraduate degree is in the history of ideas, so this MA looked fascinating, with Earth-based cosmologies right through to physics. So I applied and had the interview. I think they thought it would be a good thing to have someone on the MA from a slightly different background.
KN: What modules did you find most interesting?
PS: The research module. It taught me that you didn't have to resort to a quantitative approach; that you didn't have to use statistics and roll out the evidence in that scientific way. It also introduced me to phenomenology, which to me is fantastic. I found the Science and Scepticism module to be the most difficult, but enjoyed the dissertation most of all.
KN: How did the MA affect your attitude to cultural astronomy?
PS: I did the MA for the cultural astronomy, and I managed quite well. I'm very interested in the esoteric side of science. My main interest became how people experience the world. I think the reductive worldview has chained us up in an unquestioning mechanistic universe, and experience can't be verified by science. I focused on the shamanistic potential that happens when you engage with the world, in particular in encounters with animals.
KN: What did your dissertation focus on?
PS: It was titled 'The More or Less Shaman'. My research found that shamanism is a quality and that people can be more or less shamanic - so therefore shamanism can work in Western culture, because everyone has that potential, although some people are more shamanistic than others.
KN: What doors have opened since doing the MA?
PS: It didn't open any doors for career, but it opened my mind and gave me skills to argue for my passions and my alternative worldviews regarding animal welfare. In addition, several of us formed a group called the 'Imaginals' while we were doing our dissertation. We got together every two weeks to support each other, and we've kept the group going every since. It's great to be able to have a good chinwag about our interests, things we can't talk to about to anyone else!
KN: What books are you reading now?
PS: At the moment I have several on the go, including Extraordinary Anthropology: Transformations in the Field by Jean-Guy Goulet and Bruce Granville Miller, and Deep Roots in a Time of Frost by Patrick Curry. I also revisit books I've read before, like those by Sean Kane and David Abram.
KN: Any new projects in the pipeline?
PS: I'm now revising my PhD application through Trinity Saint David. It started out using phenomenological and autoethnographic methodologies to describe encounters people have with animals and how it can completely change their worldview. I'm now tying that in with my MA in Environmental Law, where my dissertation was on Wild Law - there are lawyers trying to reframe laws to allow for agency in the environment and animals. I want to explore experiences and legal approaches to animals that could move the law towards animals so they have some sort of legal standing. At the moment, the law is human-centred and based on property rights; we need to look at how it can include non-humans and the environment.
Many thanks for taking the time for this interview, Petra. We wish you all the best with your forthcoming PhD studies.
Fig. 2. Petra at Graduation
Fig 3: Petra now
---
The SPNews welcomes articles, features, reviews, ideas, art work and photography.
The Ed's email is always open.
Pam Armstrong Newsletter Ed'.